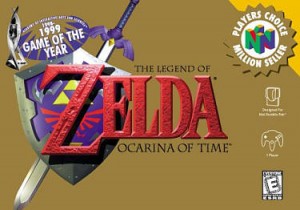 I remember it like it was yesterday. Taking a ride to the Toys "R" US in Livingston, NJ to try out Nintendo 64. For me, it was like going to the World's Fair. I had been playing limited side scrolling video games my whole life, and Nintendo 64 eliminated limitations for game developers. We can now roan free in a three dimensional world with graphics that blew away those of Super Nintendo. When I got Nintendo 64 for Christmas, my brothers and I basically knew how to beat most of Mario 64 because we played it so much at the mall, we were basically glued to the TV for a week straight. While some people don't appreciated good video games as much as I do, I can tell you it is silly to write off playing video games as wasting time, or being mindless. For instance, Starcraft 2, which is probably my favorite game of all time, is compared to high speed chess. In Korea, there are competitive leagues where the pro gamers train as hard as professional athletes learning the endless strategy types to win.
Over a year ago, I decided to quit playing Starcraft II as it required too much time to keep up with the ranking I was at. I spent a good amount of time searching for a  good single player game to play. I decided to borrow my brothers Xbox 360 and play GTA V instead of waiting for it to come out on PC.  In case you didn't know GTA V holds the record for the highest budget in a video game at 265 million dollars. I beat the game in about a week and while I enjoyed it, it did not feel like it was one of the best games I had ever played. So yet again I went searching for another good game to play, looking mostly at new titles, trying them out and not being satisfied. Then I realized something, I had never beat Zelda 64 Ocarina of Time. On top of the game being really hard, I never got much of a chance to play the game when it came out since I had wrestling practice and my brother spent most of his time playing it. He was the first kid in town to beat the game. I downloaded Project 64, a Nintendo 64 emulator and acquired the ROM to play the game on my computer in 1080 resolution using an Xbox 360 controller. I started playing the game in late March, and I did not beat the game until two days ago. The game was very challenging, and I even had to lookup some hints to beat the game. I was glad when after I looked up the hints, since there were some things that I just overlooked in the beginning stages of the game. As opposed to games like Call of Duty, where I can beat the game in one night, it look a very long time to figure out all of the puzzles in the game. When I beat the game, I can confidently say that I liked it more than GTA V despite the fact that the game was published in 1998.
So now that we are in the smartphone era, I feel a bit worried about the state of quality games. As I have mentioned in my previous posts, the top earning games on the App Store exploit people with addiction problems by offering freemium games, and charge real money virtual currency. Even the top game companies are starting to offer their game for free, but expects users to pay for additional content. I am fine with this as long as the games are engaging, the opposite of mindless. I remember getting hooked to this Spiderman runner game that had the freemium model. My friends would ask me why I keep playing that game and I would tell them that I don't have a good response to that question. Thankfully, I gave up on that game. The thing is, to control a game on a smartphone, the controls need to be simplified, which takes away from the analytical skill required to play a console or PC game. Smartphones are growing at a rapid pace, and Nintendo has flirted with the idea of publishing their games on the App Store, which would be like throwing in the towel. If the mindless games rake in the most money, why would there be any incentive to make a quality game?
Now that I am done with Zelda 64, I am going to play Half Life 2 and GTA V on the Oculus Rift. I was hoping to get on this sooner, as I want to eventually start to develop for the Oculus rift, but Zelda 64 was too darn good of a game to beat in one night.
By the way, my second Apple Watch got published, "Practical Calculator for Watch – Follow Order of Operations". It is unique from all the other calculator apps, as the buttons are big enough to touch, it is the only calculator watch app I find usable. In addition, no one has figured out the trick to "Heads I Win, Tails You Lose – Rigged Coin Magic Trick Guessing to Win Every Time". There is a version for the iPhone, if you want to try to figure out the trick on the iPhone, cover 25% of the top of the screen so you will not see the explanation to how to the trick works. I'm still working on the Apple Watch version of "Instalist – Automated Amazon Catalog Gift List Creator" . Unsurprisingly, finishing this task isn't as easy as I thought it would be. However, it should be ready when the Apple Watch gets to the masses.