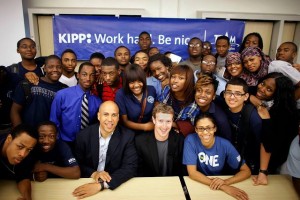 To start off the new year right, I have decided to change around my priorities in work. I grew tired of writing the latest and hippest iPhone and Apple Watch apps that solve first world problems. Saying goodbye to a lavish lifestyle will be more rewarding since the problems with education in Newark is a very complex an difficult problem. I developed an interest in helping Newark since high school, where my wrestling team went to face off against a Newark high school. I was in disbelief that I was living so close to a high school that looked like an abandoned building. In addition, the  documentary, Waiting for 'Superman' also helped show the problems going on with inner city public education. So, what is the plan? I happened to grow up very fortunate, with a father that worked at Bell Laboratories and became very well educated with computers at a very young age. With just a laptop and a internet connection, anyone can have access to limitless educational material. Eventually, with the help of investors, I hope to purchase a property in Mendham, stocked with computers to accommodate and educate as many under privileged kids possible. I also hope to acquire a large amount of land to keep a distance from neighbors to effectively run my philanthropic project. On a side note, owning land is crucial to running by business since it can produce a high yield. Watch the two richest people in the world talk about why land beats about investing in precious metals.
At the new estate, I will entertain the idea of running a private school, such as Alt School as well as AirBnb the mansion for people interested in the estate. However, I must stay focused on the main objective, helping the kids in Newark. One of the major problems in helping the education system in Newark is that money alone will not solve the problem. Mark Zuckerberg donated 100 million dollars and most of the money was spent on raising teacher salaries. The end results were not very impressive. Owning a mansion can't help accommodate all of the kids in Newark. However, I feel that it is a very good start to help improve the lives of those kids in need. If I do model a great working project, then my business can potentially expand to help out more and more kids. I've been having pipe dreams about celebrating Thanksgiving with my family, along with as many Newark kids that appreciate my work.
This Newark project is very exciting, and I am ready to put app development on the side for now.